Work on your business, your finances, and your future with Ben Altadonna at…
The Carmel Clarity House
Accelerate Your Success. Schedule Your One-On-One Strategy Intensive with Ben Altadonna.
Carmel-by-the-Sea, California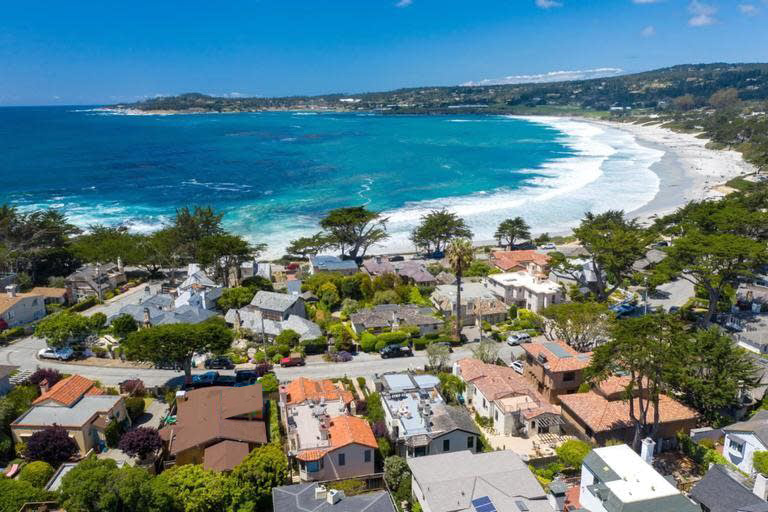 Danville, California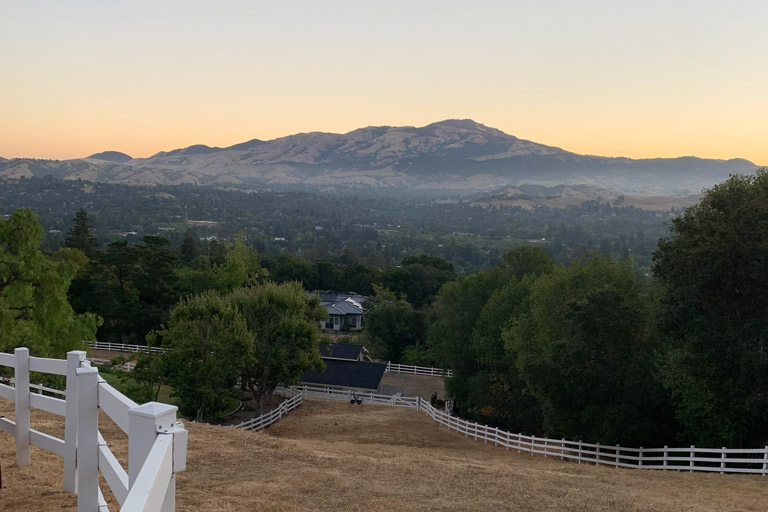 Wednesday 7 pm – 9 pm, Thursday 9 am – 9 pm
Includes fine dining with Ben and accommodations in either Carmel or Danville, California
INVESTMENT:
$30,000.00 FOR NEW CLIENTS

$20,000.00 FOR PAST CLIENTS
Check available dates and payment plans here.
What takes place…
A highly customized process and experience to best serve your current challenges and opportunities.
You will leave with a written "action plan" detailing the specific steps that you'll need to take.
By the end, Ben will know more about you and your business than you do and what you will need to do to create exactly what you want.
Who this is this for…
Already successful entrepreneurs and business owners excited to discover their blind spots, motivated to reduce their stress, and willing to improve their performance and profits.
It turned out to be an intense Master Mind Meeting with one of the great marketers of our time.

Dr. Ray Marquez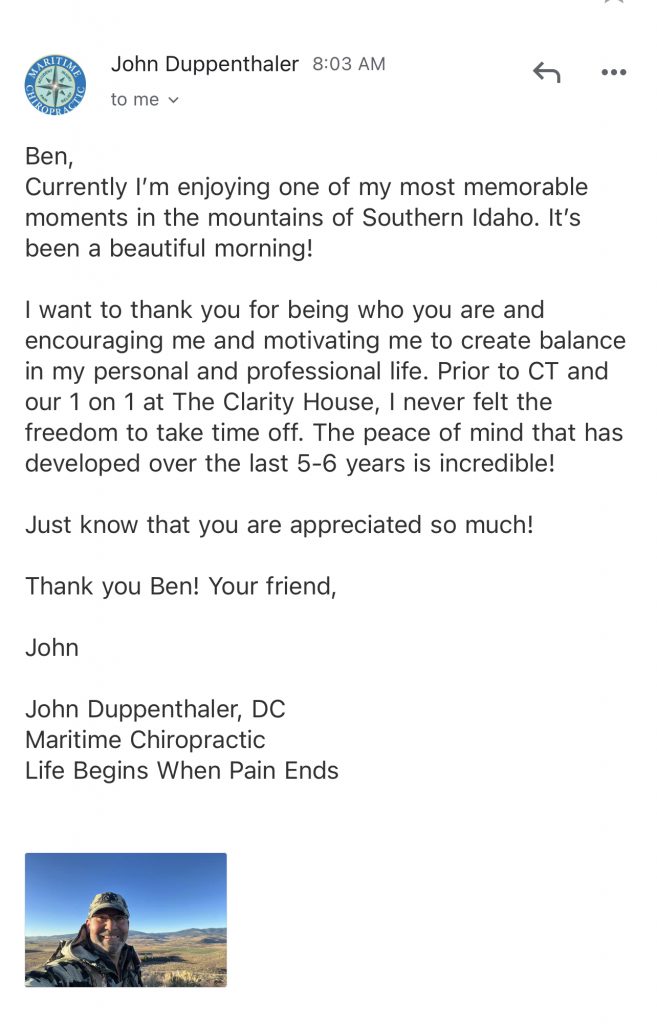 Check available dates and payment plans here.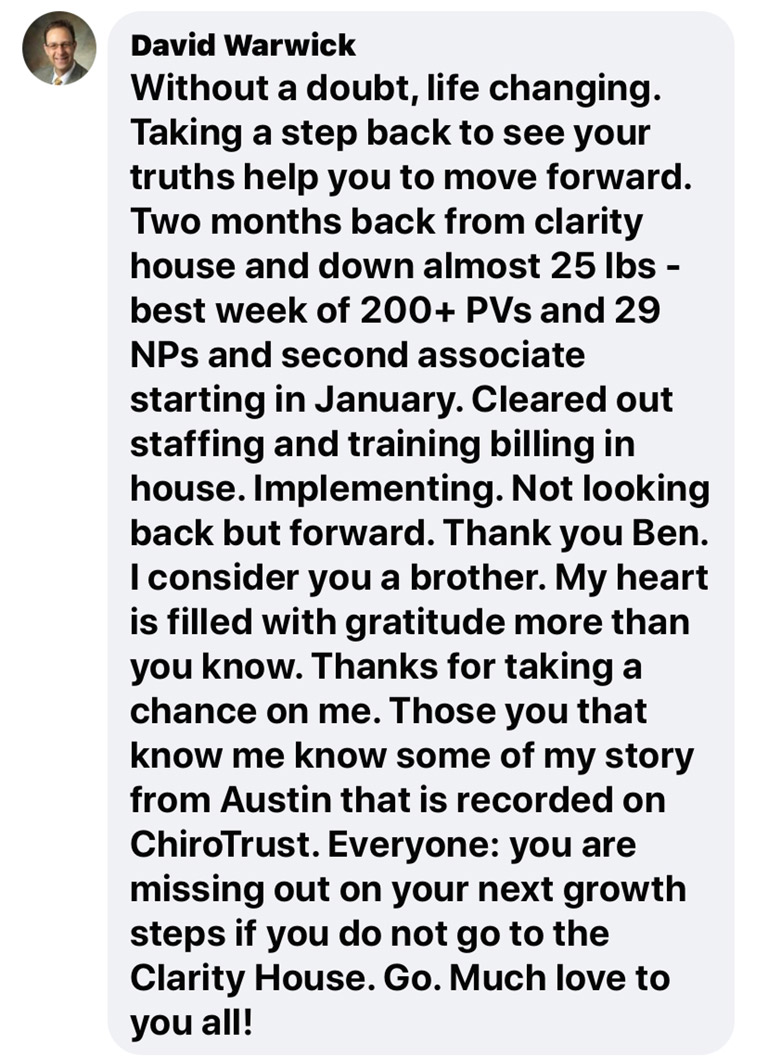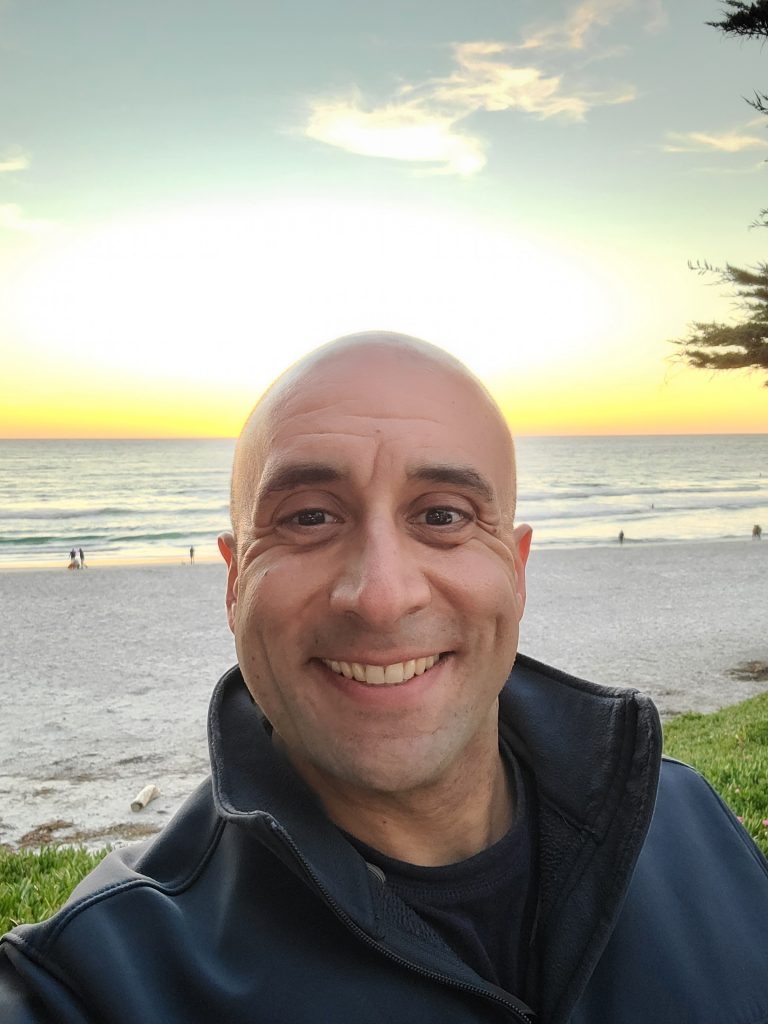 "When Ben presented the Clarity House offer to his ChiroTrust Members, I knew it was something that I had to take advantage of. I have been with ChiroTrust for some time, and I was implementing all the different components of ChiroTrust, but something didn't feel right with how I was personally getting things done. I've seen ChiroTrust work for so many different docs, and I knew that I was dealing with a disconnect somewhere, but didn't know where to look. And what better way to fix things than going right to the source!

I couldn't have been happier with the few days I spent in Carmel. Ben dissected my business, my personal life and most importantly, my mental makeup. He took the time to listen and was straightforward and honest, but in an empathetic and caring way. Ben wants you to succeed, not only in business, but in all aspects of your life. He covered things that I wouldn't have even thought about discussing. In the day and a half that we spent together, things started coming together and I returned home with a greater sense of clarity and purpose. I'm only 6 weeks out from our meeting and I'm on pace to have my busiest month in over 10 years! The Clarity House was an incredible, invaluable experience. I highly recommend taking advantage of this opportunity. It will change your business, your mindset and your life! Thanks, Ben!"

— Greg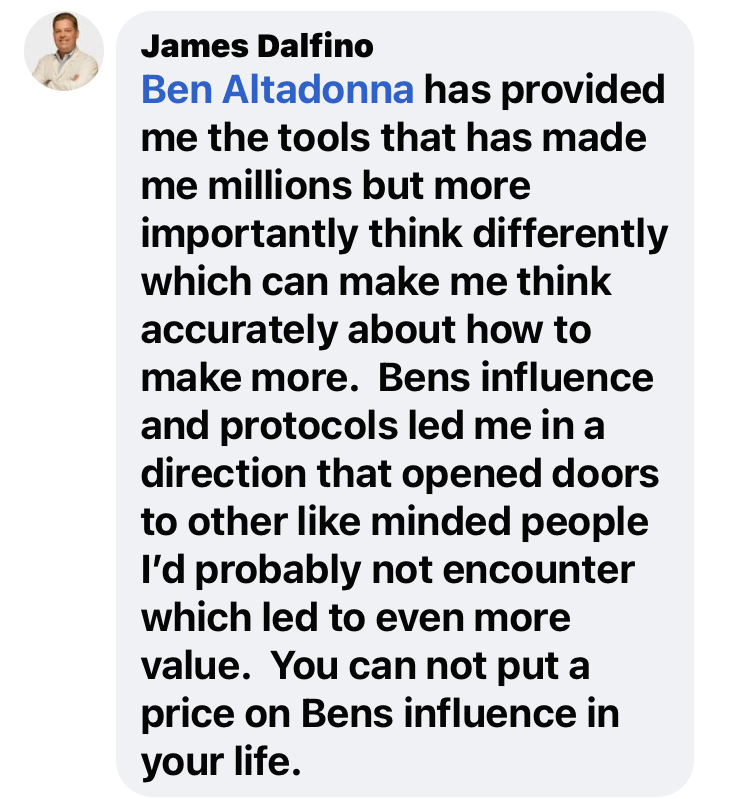 Check available dates and payment plans here.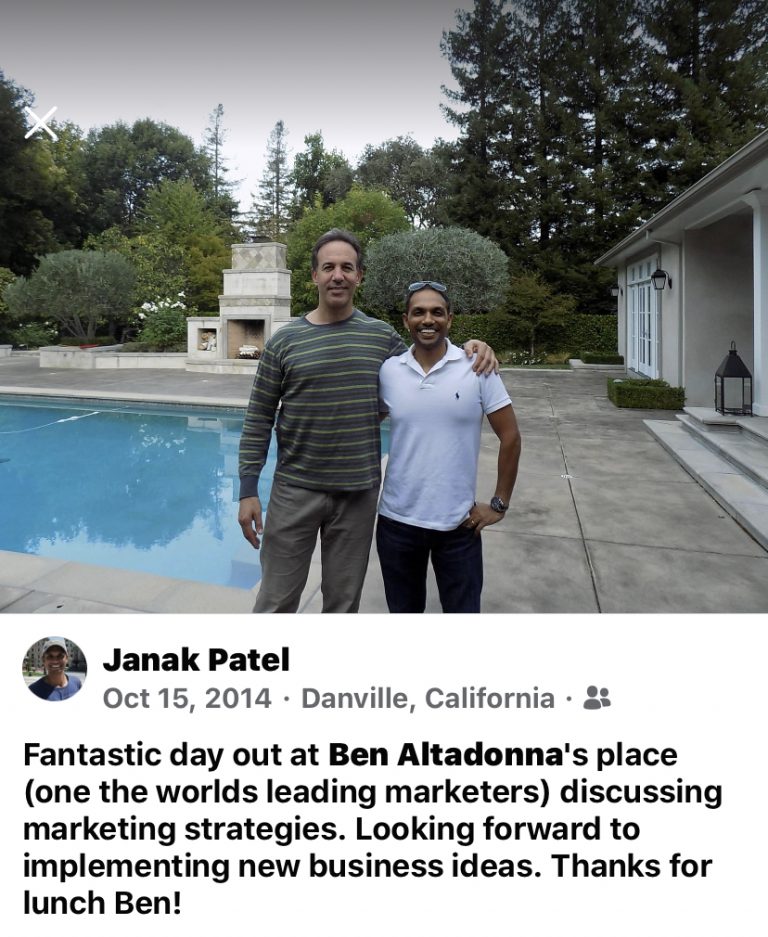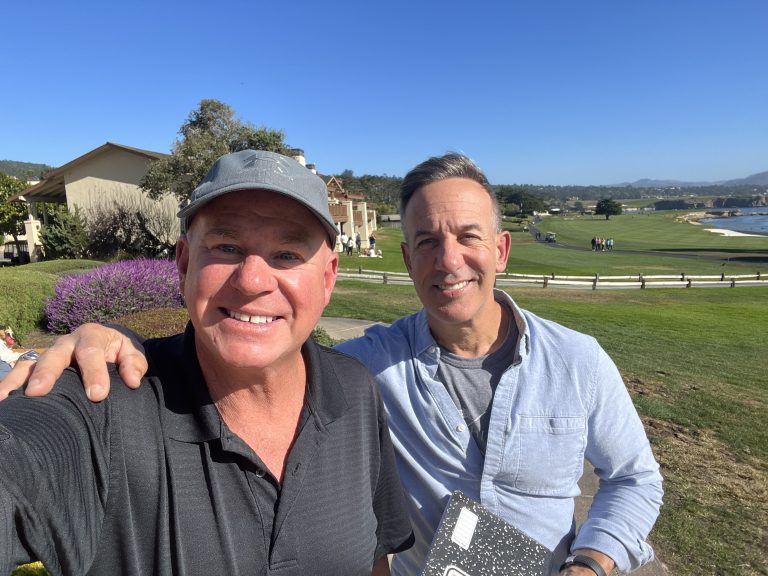 "I felt the day with you was extremely valuable. And fun. A lot of clarity – which is the best word to use – to my life and practice. You're the best!"

Dr. David Rovetti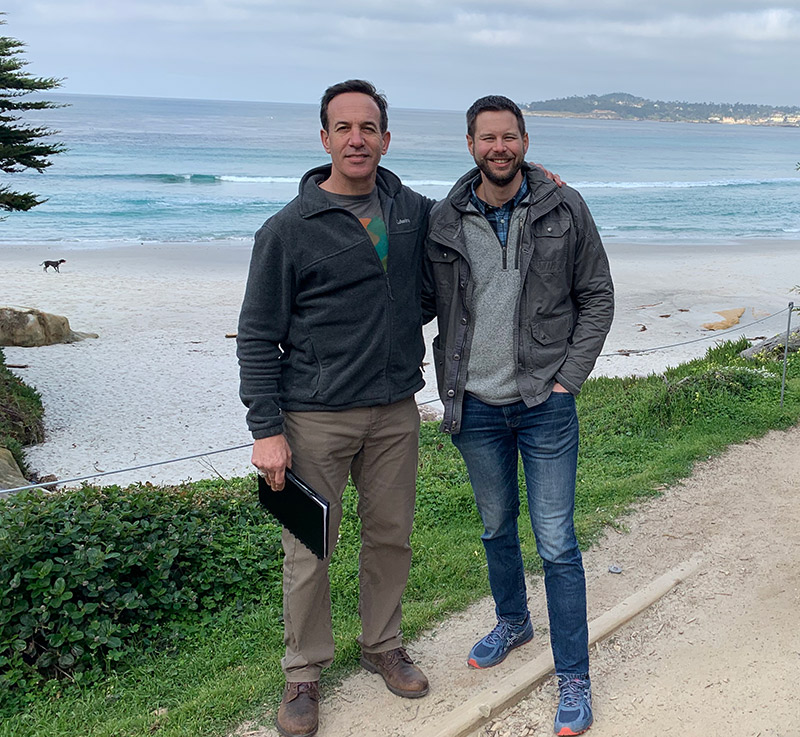 "They say that a poor man is frugal with his money but a wealthy man is frugal with his time. A weekend with Ben Altadonna at the "Clarity House" was a profitable experience for me, particularly since I will be much more frugal with my time. When I implement the changes Ben recommended, I estimate I'll free up 10-12 hours a week or 500-600 hours a year. I'll actually have "time to think" and I look forward to the new experiences I will enjoy as a result. Ben is an open book and he is as authentic and generous as he seems. He generates big ideas for growing and marketing a business with ease, but really he is a man of action and implementation. It's great to listen to a man who knows with certainty how to achieve specific outcomes almost on demand by committing to a process that will create value over a lifetime. I also enjoyed how effortlessly Ben can build rapport with strangers. His attention to the details of his surroundings is in my opinion a by-product of the value he places on every interaction and his time. The trip got me out of my routine and enabled me to ask myself questions I didn't even know to ask. Just being in Carmel, taking in the sights, walking the beach, and eating good food was an invigorating and motivating experience. Ben is a friend who legitimately cares and I know the benefits of the meeting will last a lifetime."

Michael Dam, DC
Check available dates and payment plans here.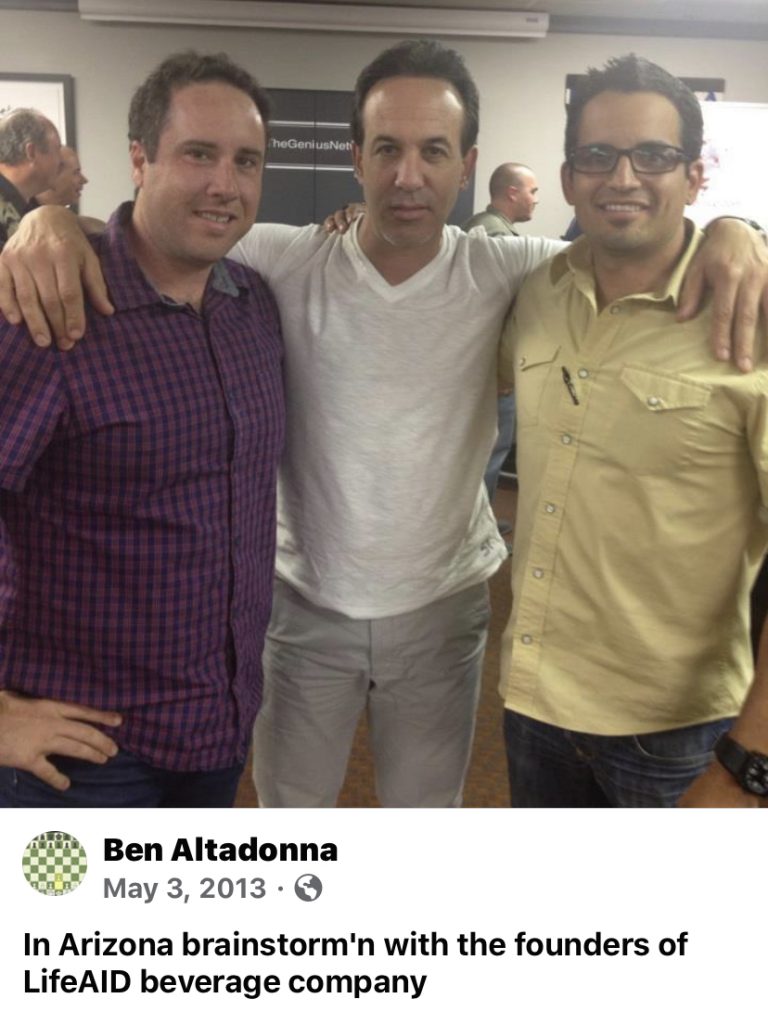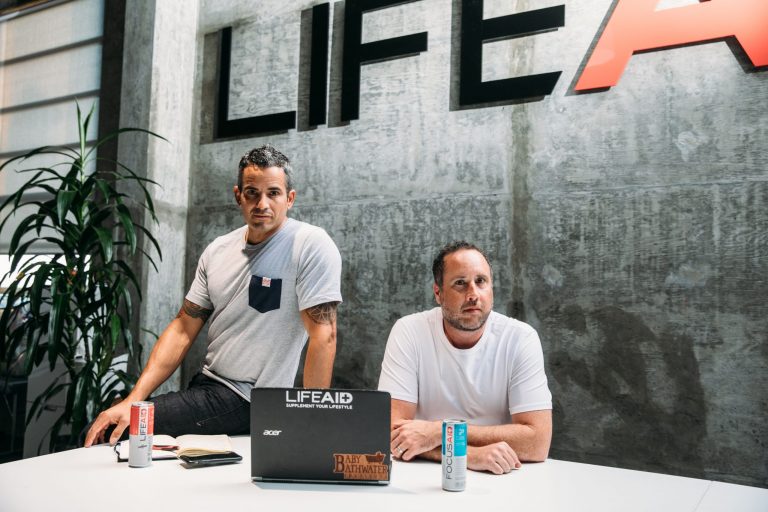 Out of all of our advisors, investors, board members – no one was as impactful from having a concept to developing a plan to address a market with key early adopters in a very promising way. Ben has helped us develop the cornerstone of our business…

Orion Melehan, CEO
LifeAID Beverage Co.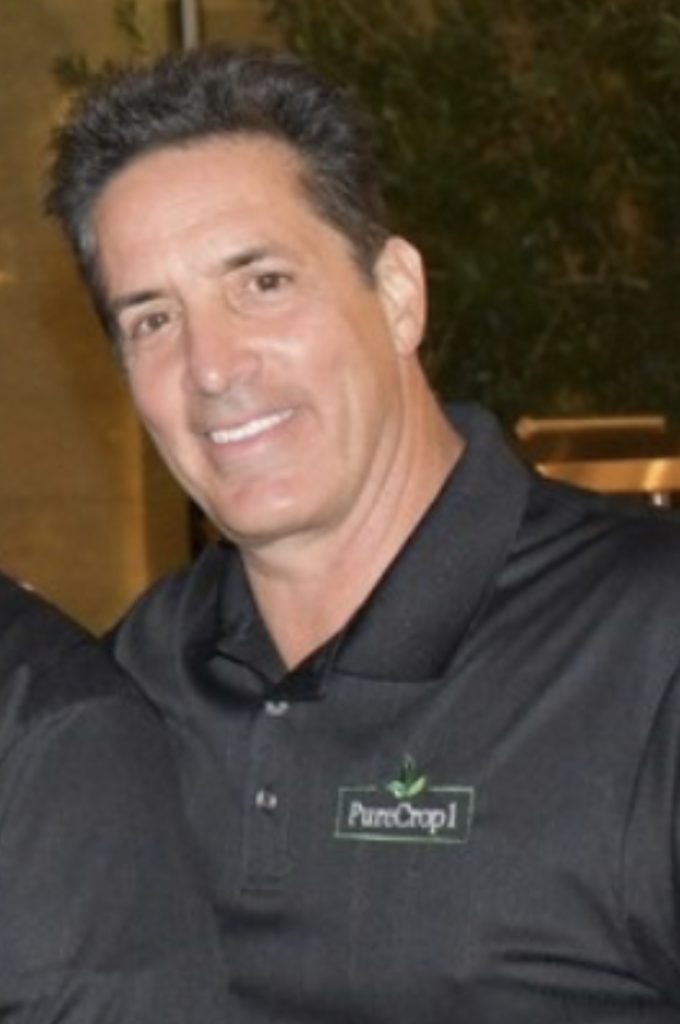 Ben has been a long time trusted business friend, and has a keen business mind. As such, he is a meaningful respected business voice that helps me & PureCrop1 navigate the challenging business waters, and continues to provide his business expertise, as PureCrop1 doubles revenue year over year.

Ray Drysdale
Check available dates and payment plans here.

Ben has made PATLive millions of dollars. No one can match Ben's performance for PATLive. His marketing strategies are in a class above all others and his campaigns produce record breaking results. Ben has exceeded our expectations and always does what he says he will do. As a top national supplier of hosted communication services, PATLive is very thankful we have had the opportunity to work with Ben Altadonna since 1997.

Glen Davidson, President, PATLive

Ben gets marketing like Tiger Woods gets golf. As the #1 Asset Protection Attorney in the country, I see a lot of experts in their field, and Ben stands at the very top when it comes to Marketing. I have recommended him to my best clients and worked with him myself and I can say there is simply no one better if you are serious about your business.

Doug Lodmell, Esq.

I am constantly seeking marketing experts to help me reach all my business goals. Ben Altadonna is a true marketing guru. He showed me an integrated media campaign that included captivating copy, product positioning and reconfigured a very successful weight loss product for me. I would highly recommend his talents if you want your company to succeed and prosper. Ben will exceed your expectations.

Jamie Brenkus of "Eight Minute Abs" TV Show & Slim&FIT™
Check available dates and payment plans here.
Check available dates and payment plans here.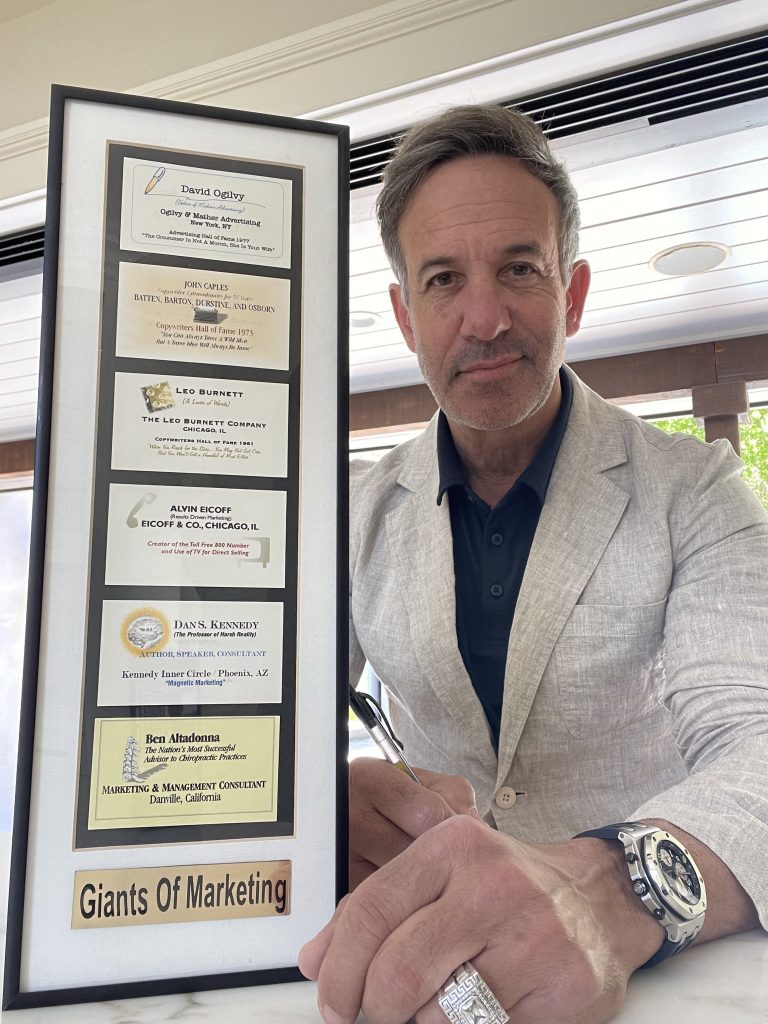 Contact Ben:
BenAltadonna@TheCarmelClarityHouse.com
"Regain control of your business, your marketing, your health, and your life!"

Ben Altadonna
© 2020 Altadonna Communications, Inc.